Spanish Market: Traditional Hispanic Culture and Art in Santa Fe, New Mexico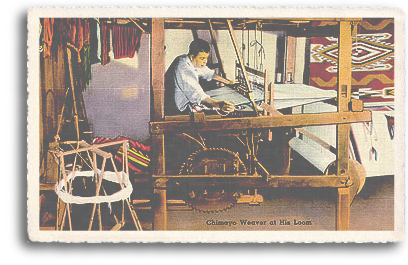 A major highlight of the Santa Fe summer season is the annual Spanish Market, held for two days on the Santa Fe Plaza in late July. This outdoor exhibition is an informal community celebration of the state's Hispanic culture, where hundred's of artists honor their heritage through a variety of art forms.

Sponsored by the Spanish Colonial Arts Society (founded in 1925), the market debuted in 1926. Spanish Market is the oldest and largest event in the country featuring traditional Hispanic folk arts and crafts.

The society's collection of more than 3,500 art objects is housed at the Museum of Spanish Colonial Art at 750 Camino Lejo (Museum Hill) in Santa Fe. The collection includes Spanish Colonial art forms covering four centuries and four continents.

Northern New Mexico's Spanish Colonial period dates back to the late 1690s, and a visit to Spanish Market takes tourists and locals alike back to the days of traditional village celebration, with music and dance along side artist demonstrations, award ceremonies and more than 200 booths displaying a variety of regional artwork.

Showcasing the living artists and craftspeople whose work maintains the skills and traditions of their people, participating artists are required to be practicing their craft in the context of their community. All of the artwork shown at the market is handmade and screened for authenticity.

Some families are represented by three or four generations, with a section of the market dedicated to youth exhibitors, some as young as age six. Each year a few new artists make their way past the screening process, and with the market's continuing expansion, more and more booths will be added.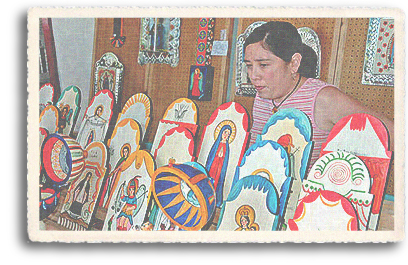 From renowned local artists to upcoming youth exhibitors (up to age 17), an impressive display of quality folk art can be found in the following categories:

• Santos. Depictions of religious figures, found in bulto (three dimensional wood carvings) or retablo (paintings on panels) form.
• Tinwork. Cut and punched with dot, floral or abstract patterns into an array of functional designs such as switchplates, candle holders, sconces, chests, mirrors and cabinets, or tin crosses and retablos.
• Ironwork. Tools and household items, including door handles, knives, lamps, locks, and hinges.
• Straw Appliqué. Wheat straw and corn husks are adhered to wood with resins to fashion intricate design pieces, usually seen on crosses, boxes, and picture frames.
• Textiles. Loom weaving and hand-spun, vegetable-dyed yarns found in wide variety.
• Embroidery. Using the colcha stitch, which was used for centuries to embellish altar cloths, priest garments, and coverlets; the crewel-like stitch produces rich and colorful textiles and tapestries.
• Furniture. Cabinets, chairs, tables, and doors mostly constructed in pine with mortise and tenon joints in place of nails.
• Precious Metals. Gold and silver filigree jewelry and art pieces intended for daily or sacred use.
• Hide Paintings. Religious images painted on deer or elk hide.
• Pottery. Hand-sculpted bowls, pots, and other ware made from micaceous clay.
• Bonework. Decorative items, anillos (rings) and tool handles carved from bones.
• Ramilletes. Decorative paper garlands.
• Basketry. Baskets handwoven from red and brown river willow.

Education and entertainment is the focus of the live craft demonstrations scheduled throughout both days. The market also has a booth featuring books on art, heritage and history from New Mexican publishers. Like the artwork, the books are juried before admission.

Food booths offering Spanish Colonial, Mexican and Northern New Mexico specialities, such as carnitas, carne adovada, stuffed sopaipillas, chile rellenos, fajitas, tamales, empanaditas, chile stew, taquitos, burritos, enchiladas and tacos, add an extra touch of spice to the festivities.

Held at the same time is the Contemporary Hispanic Market. It is sponsored by the Santa Fe Council for the Arts. Held since 1985 in conjunction with Spanish Market, it is on the northwest of the Plaza along Lincoln Avenue.

Contemporary fine art, including photography, weaving, pottery, glass work, ceramics, paintings, sculpture, jewelry, textiles, and mixed-media by some of the best local artists is shown.

History of Spanish Market

The Spanish Colonial Arts Society